1: Check travel for Tiree
Before making a booking check with Caledonian MacBrayne (Ferry) and Loganair (Plane) that they have travel availability for your preferred dates.
2: Choose your dates
On the relevant accommodation page, choose your dates for Tiree. Fill out the form including any extras you may require.
3: Check out and pay
Pay with our easy and secure online payment system powered by PayPal and your booking will be secured You can pay by card or Paypal. You will receive a confirmation email.
(We use PayPal as our first choice for clients payments because it is the number one secure transfer platform, providing security for both parties).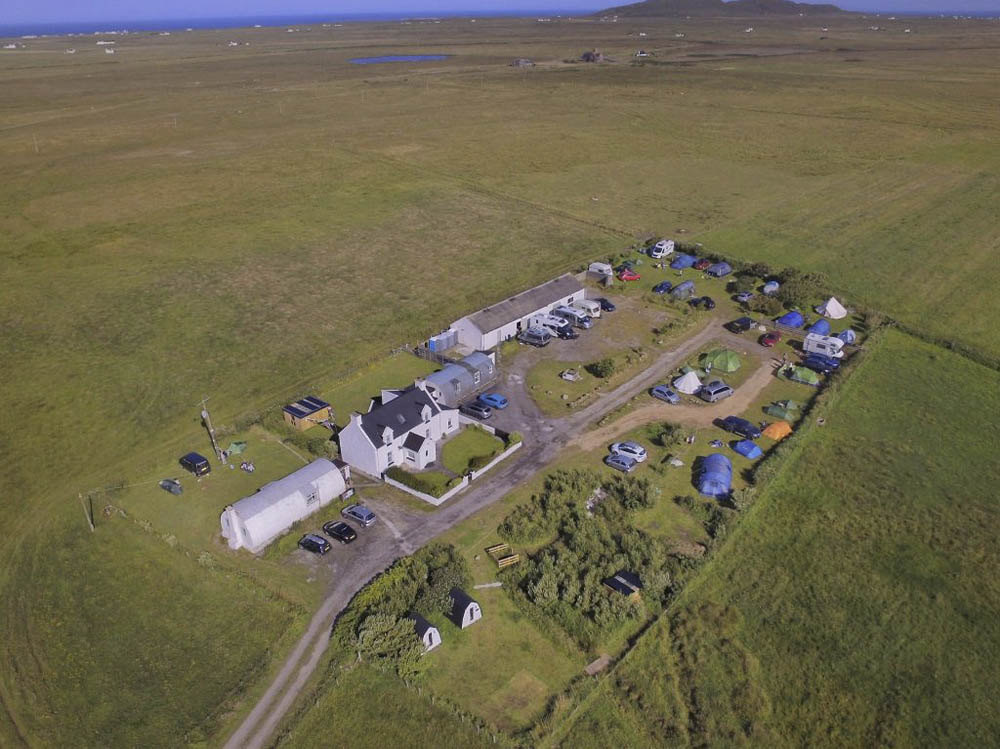 AERIAL VIEW OF BALINOE CAMPSITE DURING THE BUSY MONTH OF JULY
Frequently Asked Questions
How do I book a pitch on the campsite?
Bookings are essential. Our preferred option is that you book online by visiting the appropriate page (e.g camping / pods / self catering / bothy). Alternatively you can email us or write to us. We prefer that bookings are made via our website but bookings can also be made in writing. Bookings can also be made over the phone. We are happy to accept payment on arrival if there is good justification, international guests who may incur larger charges than UK residents for making international banking payments would be a good example but Paypal is also a very good payment option for this.
Do I have to pay online or are there other options?
Not everyone wants to use an online payment medium and we respect that. Call or email for a quotation if you do not wish to use our online system and payments can also be made by:

1: Internet banking, direct from your bank. Please email us for our bank details if you wish to pay by BACS.
2: Postal cheque is no problem with cheque payments being payable to "Balinoe Campsite".
3: Cash on arrival is equally acceptable whether you are pre-booked, or not, but we do strongly advise pre-booking to avoid potential disappointment. 
4: Credit Card payments can be taken by phone or on arrival.
When can we check in?
We strongly advise organising pitching with a member of our staff to achieve best effect. Tiree has extreme weather which our staff can offer best advice for on arrival with us.
Our campsite has no staff on site on a permanent basis. We only staff our site for two hours after the ferry arrival time each day and accordingly we would ask campers to make their way to us immediately on arrival so that we can arrange pitching and introduce campers to the range of facilities. If not travelling by ferry to the island or already on holiday on the island before arrival with us, please contact us if the timings mentioned above do not work for any reason.
Additionally we often have staff on the campsite each evening after 8pm and this is the best time to ask any questions in person or get direct assistance. Through the day, please call 07712159205 for any assistance you may require.
Are dogs allowed on the campsite/self catering property?
Yes. Well behaved dogs are welcome. They must be kept under control at all times and not worry livestock on surrounding croft land. All fouling must be removed from the campsite. Dogs are only allowed in the non carpeted areas of the house.
What are the charges for children on the campsite?
On the campsite children under 5 are free & children under the age of 10 are half price.
How far is the nearest groceries shop?
'Buth a Bhaile' (gaelic for the village shop) is 10 minutes by car or 35 minutes on foot in the township of Crossapol. The Co-op is 20 minutes by car or one hour and 15 minutes on foot.
How close is the nearest beach?
10/15 minutes walk or 2 minutes by car…
Are fires/barbeques allowed on site?
We have a fire pit area on site. If fires are desirable then please state this when booking/arriving. We will do our best to place you somewhere suitable but this would be first come, first serve. Barbecues are acceptable on each pitch, provided they are mounted and do not burn the ground.
Are dogs allowed in the Pods and Bothy?
We allow dogs on the campsite pitching provided they are kept under control and that all dog mess is removed. While we allow dogs in the pods and bothy, we do not recommend that you bring your dog with you. The pods and bothy are small and space is fairly confined. Sleeping in close quarters with your pets is not something that is advisable on health grounds and accordingly we do not recommend that you do this.